Welcome to Style Diaries, a series where we research the physical manifestations of our closet tours IRL. We're asking friends and tastemakers to show us what they're *actually* wearing during the week and to provide a little insight into their thoughts on the current state of fashion. This week, we follow Elizabeth Kuzyk, of her eponymous label Kuzyk, as she bounces from atelier to client meeting to workout class. As a designer, Kuzyk swears by interesting pieces to create laidback (read: minimal effort) ensembles with a touch of Parisian glamour and rock 'n roll.
Look 1: Morning Meetings and a Client Lunch
Photo: Courtesy of Elizabeth Kuzyk
"I like the shabby, worn feel of The Smith Patchwork Coat. It feels like a cool alternative to a blazer. I wear it the way I would a blazer: fold it over, roll up the sleeves. The minimalism without the hardware and the trim add an effortless elegance. The waxy brown nubuck is insane; it's so good.
This day I chose to toss on a T-shirt I made a while back out of deadstock material. I am so picky with how a T-shirt fits. I often stretch the neck and roll the sleeves. So I had to make my own. We hosted a lunch for private clients so I selected our Smith Straight Leg Trousers to match the coat. It's a good look—cool, at ease. I imagine David Bowie wearing it. I added some vintage cowboy boots underneath. I feel like me in this look. It's a rock 'n roll take on a power suit."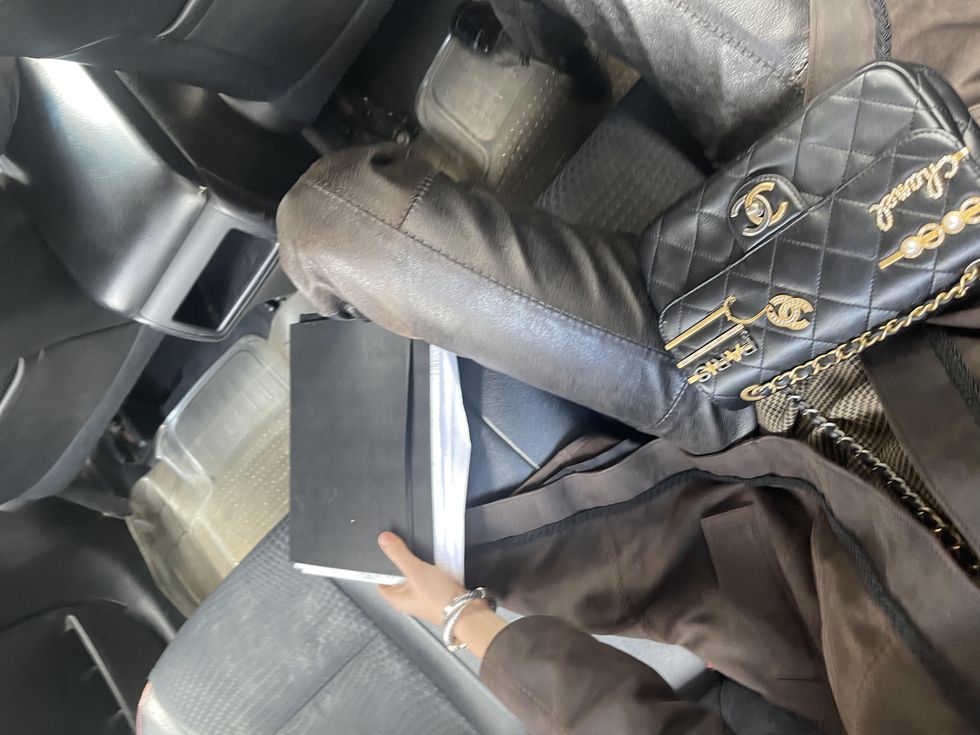 Photos: Courtesy of Elizabeth Kuzyk
Shop the Look:
Look 2: Zoom Workouts and On-the-Floor Sketching
Photos: Courtesy of Elizabeth Kuzyk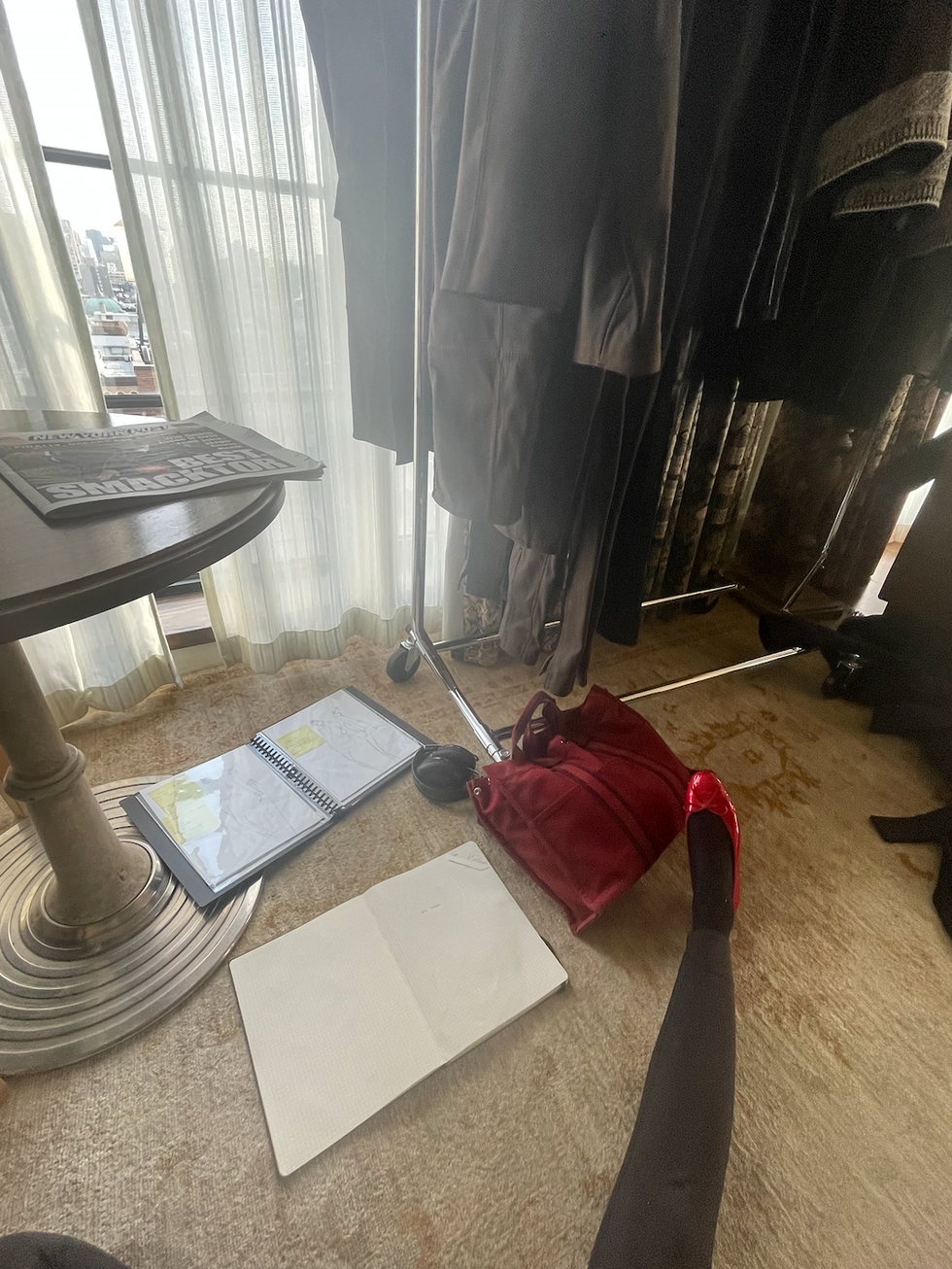 "I started the day with an early morning workout on Zoom. I do ballet and Tracy Anderson. I wore a bodysuit, cashmere cardigan, and black Lilly Bow in my hair. Then I sketched and worked from the floor. I do some of my best work from the floor. I feel like it's playtime and I'm a kid. I switched into a Petit Bateau T-shirt, Falaise Patchwork denim trousers, tossed a cardigan around my neck, and red vintage CHANEL bag for a walk in the neighborhood and breakfast with a friend.
My favorite pieces can all fit in a suitcase and whatever I grab can work together. I design with that same intention. When it comes to workouts (or anytime really), I like to dress like a French girl—simple, cool, at ease. The hair bows help."
Shop the Look:
Look 3: A Day at the Atelier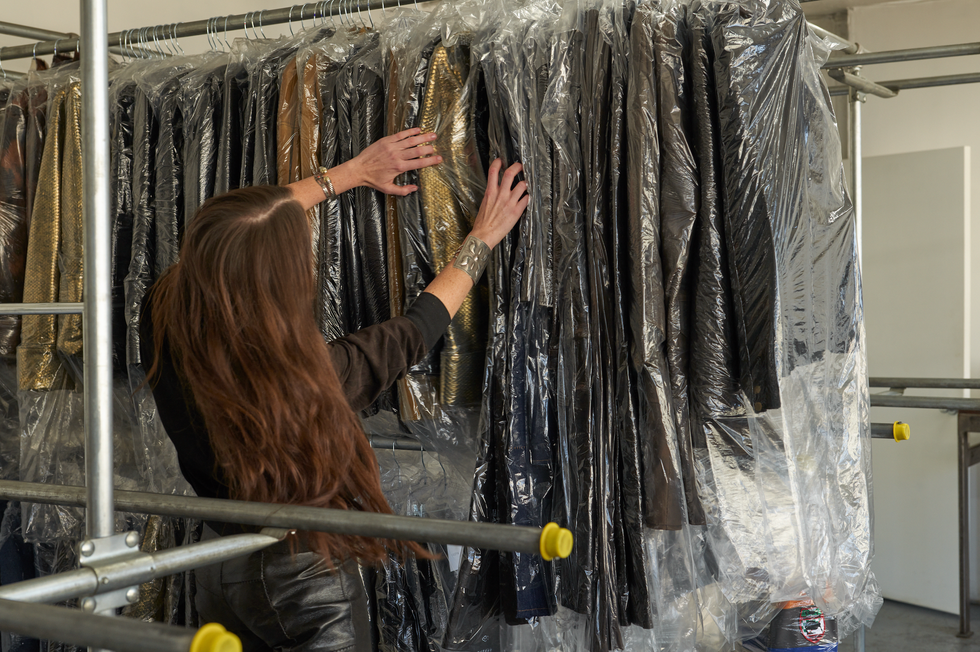 Photo: Isabella Lombardini
"I went to my atelier in downtown Los Angeles, and met with my head of production who has been making leather garments in the same building for over 30 years. I wore my Lou Suede Pullover that I love. It is a chic alternative to a sweatshirt. I made the pattern from my favorite worn out sweater that was shrunken just right then reimagined it in a combination of black and brown suede.
I wanted to wear some patchwork lambskin, tossed on a pair of snakeskin boots, and some pieces of rock n' roll jewelry—Chrome Hearts hand-me-downs from my dad, vintage Navajo jewelry from Bob Melet and David Yurman from The RealReal. I feel like a cool, laidback Parisian with an equestrian and rock n' roll twist."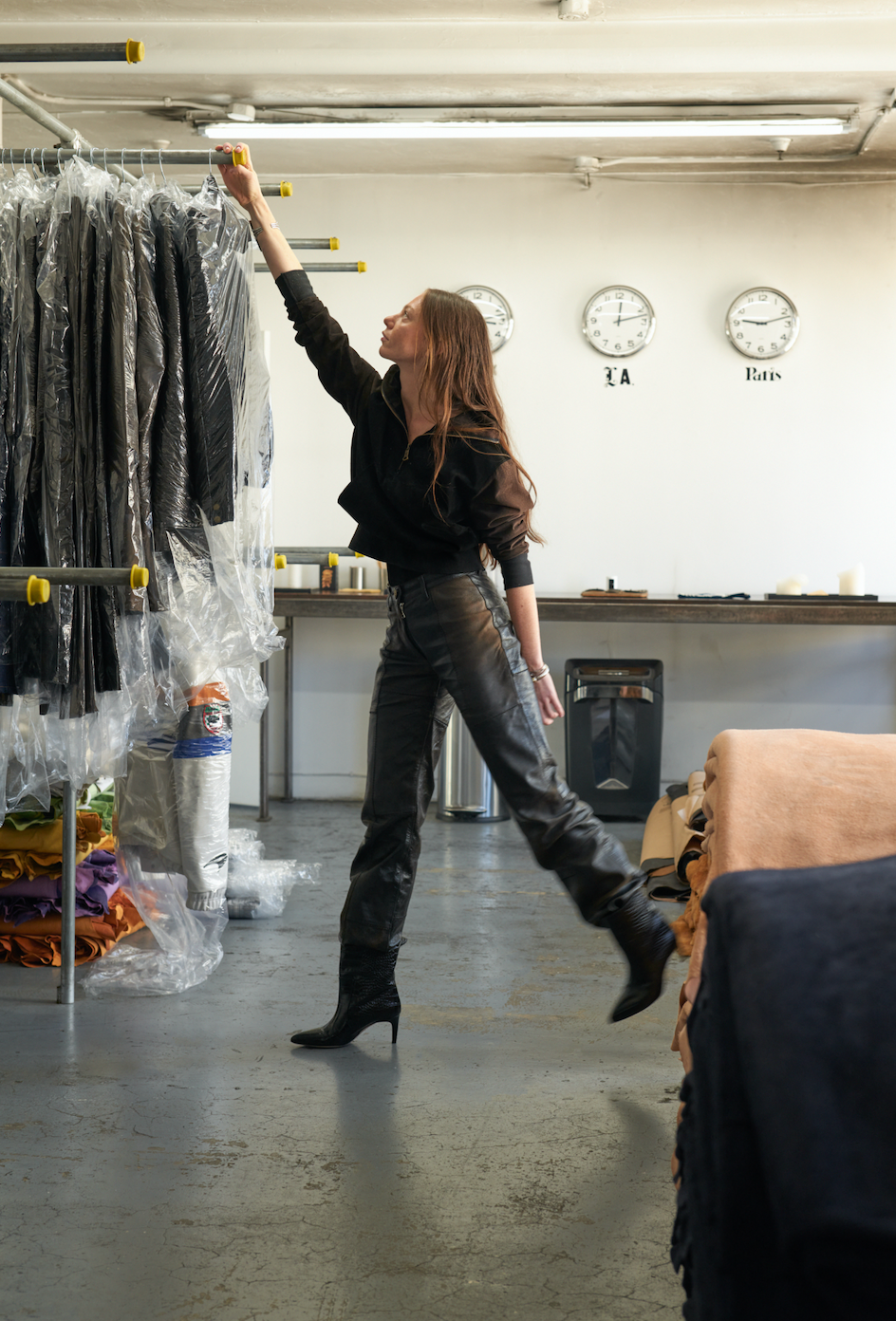 Photos: Isabella Lombardini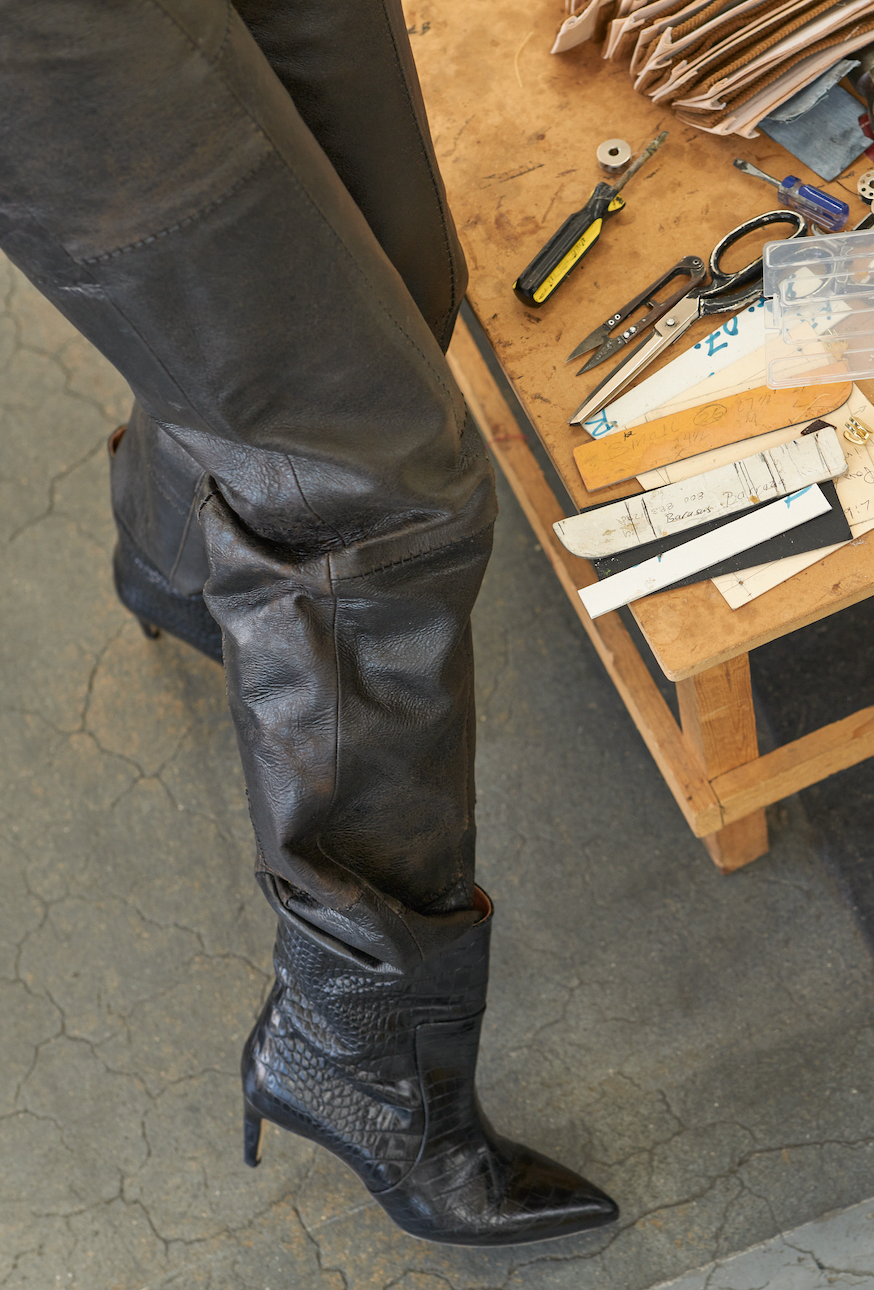 Shop the Look:
Look 4: A Long Drive on Mulholland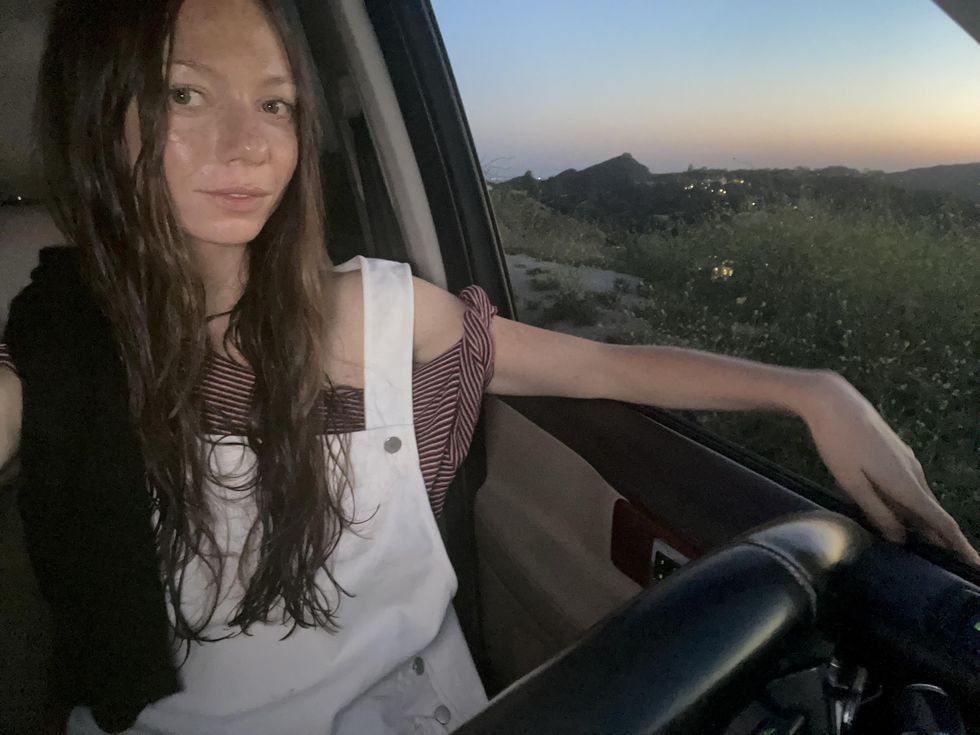 Photo: Courtesy of Elizabeth Kuzyk
"I put this on after an evening dance class. I hit Mulholland Drive and pick an album to sing to. That's my ideal way to end a day. This is my go-to look for play. I can walk into the water above my knees. The hem sometimes gets a little wet but whatever. The pockets fit whatever I need.
I love an overall dress. It's laid back and I can wear any T-shirt underneath. This day, I wore my favorite striped tee I got in Paris eight years ago, but I also love LESET. They know how to cut a T-shirt. I wear the white ones all the time."
Shop the Look:
Notes on Style:
What role does fashion play in your life? How does it serve you?
"For me, style is whatever makes me feel more myself. I see clothing as a tool. I can choose to put on tools that make me feel confident, cool, at ease, or empowered. And for my work, I build those tools."
What does your style look like these days? Do you have a go-to outfit formula or do you prefer to switch it up when getting dressed?
"I have a few uniforms I bounce between depending on how I'm feeling. My first is leather trousers, a patchwork coat (shabby, sleeves rolled up), boots underneath, and a white T-shirt. This is my go-to uniform for the atelier, meetings, and dinners. I feel at ease and comfortable. The combination of the leather jacket and boots obviously gives me that kick of confidence. My second is for working out. It's a dance full-leg bodysuit, a cashmere cardigan, Lilly Bow, and patent ballet flats. Then, my third is a T-shirt, denim overall dress, and ballet flats."
What energy are you bringing to your ensembles this season? What are you looking forward to wearing?
"When it comes to my ensembles this season, I am letting go—feeling chill and at ease with an element of play. I dress down and don't take myself too seriously. I also love juxtaposing pieces. For a night out, I will wear a sparkly mini skirt, over-the-knee heeled boots but with a little white T-shirt and baseball cap. Or for dinner, I will wear Adidas track pants, CHANEL ballet flats, a vintage tee, and a strong jacket.
I will mix timeless classics with something playful and unexpected. Over the pandemic, I discovered basketball shorts. (I'm waiting on a pair of Louis Vuitton x NBA collab shorts I tracked down on Vestiaire Collective). I guess what I am saying is lately I am dressing like a 13-year-old boy who stole his mother's jacket and handbag."
In terms of beauty, what does your go-to hair and makeup routine look like and how does that change based on what you're wearing?
"The hair and makeup look never really changes. I get ready in 10 minutes. I wear my hair down with a middle part and loose waves, in a loose ponytail with a bow, or up in a bun with a bow (if i'm working out/in a dance class). My makeup is simple. I don't know if that is because I relate more to the no-makeup look or if it's because I don't know what I am doing when it comes to makeup and don't care enough to figure it out. I curl my eyelashes, then wear brown mascara, dewy cheeks (bronze highlighter and a hint of blush), glossed lips, and call it a day."
Shop Kuzyk's Beauty Essentials: